2020 Quality Control Survey
26th January 2021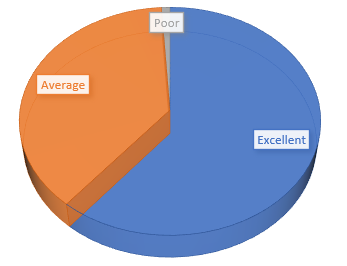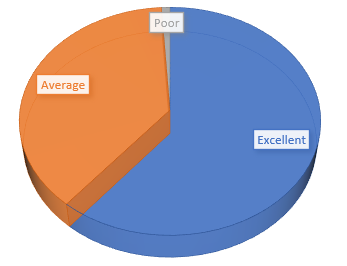 We are delighted by the amount of shipments that are being nominated within UFO, despite the challenging year we have had.
As inter-trade continues to increase, it is important that we monitor the quality of our Members to ensure that we have recruited the right companies, who perform in a conscientious, diligent and professional manner.
We received completed Quality Control Surveys from 91 companies – thank you to each of you who took the time to submit the form. It is much appreciated and enables us to continually monitor our membership.
We are delighted that the overall 'performance rating' results show the Excellent (61%) and Average (38%) ratings far outweigh the Poor (1%).
The results provide a platform to uncover any Members who rate below average. We are then able to identify and resolve issues with the very small number of Members that this applies to. We will contact the companies that need to improve their service and together we will investigate and address any problems.
We also wanted to highlight some of the comments regarding companies that you have been particularly impressed with:
Veslam Shipping (Bulgaria) is an amazing partner for us! ALLSTA (Austria) has an awesome service level! I was really impressed on Wolfgang's quick action for the express shipments I needed in Austria!
I am happy to work with the agents H & M Air Cargo (Argentina), Vision Freight (Zimbabwe), 2MT Transit (Burkina Faso) and Nunner Logistics (Netherlands).
I would like to commend Victoria Gridley of Menzies (UK) as well as Volantis Logistics (Turkey) - they were very prompt, patient and helpful.
APEX (Japan) - we are working very good, they use our services and we use their services.
We have been very pleased with the service we get from Apex (Japan), we have only few shipments, but they handle every shipment with extra care.
UFO network agent number one - Eastway (Ireland) - Our greatest supporters!
All the agents have been quite responsive with arranging bookings and getting rate requests back in a timely fashion. Aktis (Greece) are quite helpful and their pricing always seems competitive. Menzies (UK) are fantastic with overnight responses to rate enquiries and good communicators, advising of any booking delays in a timely fashion.
We are impressed with KMS (Singapore).
YSL Transportations (Cambodia) did great work for us with a complicated shipment to the USA - well done! Linas at Litgina (Lithuania) is always top of the class. Vendi in Trans Pacific (Indonesia) is a stand out guy - he does great work for us.
Here are some of the members that impressed me the most: First, it always feels good when it comes to work with KMS (Singapore) – Irene Kim always replies immediately. Secondly, Mr. Najeeb from Allied (Pakistan) - also impresses me all the time, we had regular shipments consigned to them and he always report me the shipment status without any delay. Last but not least, Sir Nino from World Ex (Georgia) - they had consigned to us some shipments and we always work smoothly and keep mutual benefit which really creates a win-win situation. We love working with all these members of the UFO family and look forward to grow more business together with them!
We would like to recommend Atlantide (France) and Euro Cargo (Italy), they provide great assistance and working with them is pleasure for our company.
Freight Direct (New Zealand) - responsible and responding to emails is very fast.
Innovo (Myanmar) - Fantastic partner on our day to day business.
ALLSTA (Germany) - Very prompt and competitive rates.
We established good relations especially with Super Logistics (Maldives) - he is a kind and hardworking person.
Eastway (Ireland) is excellent in communication with a professional service. KMS (Singapore) is excellent in their service with good cooperation as always.
Most of the members are good and helpful even if no work together. We are particularly impressed with KMS (Singapore), R R Logistics (Thailand), Fairplay (Denmark) and Spark (Australia) - good communication, responsible to the shipment and honest to the payment.
Fairplay (Denmark) is an excellent partner and provides support in the logistics process.
I'm very impressed with Euro Cargo (Italy), they always give the extra mile in every service keeping in mind to make our clients happy.
UFO members become our family members and we really impressed with all of agents whom we are working with.
Spark (Australia) - Supreme service and support is uncompromisingly offered at all times. It's with ease to have Spark there.
Fairplay (Denmark) - A widely acknowledged team spirit and the philosophy of business operating are admirable.
ALLSTA (Germany) - The incomparable reliability has made a vital role to meet the expectations of our customers every time.
Express Air Freight (USA) - Follow-ups and communications are with high standards and even surprisingly higher when the critical pressure of COVID-19 is threatening.
We are so proud of our 21-year old network and found this comment very heartwarming:
"I am really impressed with the UFO partners especially in these COVID times. Everyone is trying their utmost best to help each other."
We will always be stronger together!
Thank you for your time and please stay safe.
Kind regards,
Rachel Crawford FCILT
UFO President/C.E.O.