2021 Member Quality Control Survey Results
9th February 2022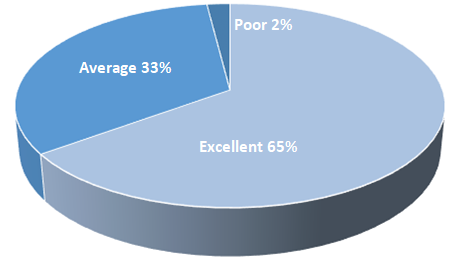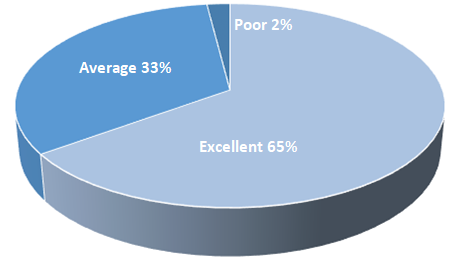 We are delighted by the amount of shipments that are being nominated within UFO, despite the challenging few years we have had.
As inter-trade continues to increase, it is important that we monitor the quality of our Members to ensure that we have recruited the right companies, who perform in a conscientious, diligent and professional manner.
We received completed Quality Control Surveys from over 90 companies – thank you to each of you who took the time to submit the form. It is much appreciated and enables us to continually monitor our membership.
We are very pleased that the overall 'performance rating' results show the Excellent (65%) and Average (33%) ratings far outweigh the Poor (2%).
The results provide a platform to uncover any Members whom rate below average. We are then able to identify and resolve issues with the very small number of Members that this applies to. We will contact the companies that need to improve their service and together we will investigate and address any problems.
We also wanted to highlight some of the comments regarding companies that you have been particularly impressed with:
Fairplay Denmark, Spark Australia and KMS Singapore - all professional and fast response.
Sky International China - always willing to go the extra mile.
KMS Singapore is the member that impressed me the most - always kind and in good communication, responsible to the shipment and honest to the payment. We established good relations with them as always.
Intraspeed South Africa - their response time is fantastic and the team provides information when needed.
Dongbo Logistics South Korea, Celerity Tank China and Plaza Forwarding Spain - they communicate well and action immediately.
We have an excellent support and service from Euro Cargo Italy, especially from Daniela Longo. Because of this we have together a very regular client who is very happy with our service, support and communication.
Intraspeed South Africa - even though it's difficult to make operations, they are good at being aggressive in the market.
KMS Singapore - excellent in their service with good cooperation as always.
Spark Australia - Rob and his team always go for extra miles to ensure everything goes smooth.
Eurogate Poland - I love to work with Piotr and Artur. Very efficient and always reliable.
Eastway Ireland - our greatest supporters! They are very helpful and professional. Fantastic partner.
Super Logistic Maldives - excellent partner. Love to work with ALL the team, very professional.
Eastway Ireland - always happy to handle business that comes from our Irish colleagues - best partners and agents, but moreover - dearest friends!
Caribbean International Cargo Dominican Republic have provided a lot of shipments.
We work very often and very well with ADD Cargo Romania.
ALLSTA Germany is very professional in operations and always reacts in a timely manner.
Spark Australia always keeps good relationship with our customers in Australia.
Express Air Freight USA takes good care of our shipments.
We marked 13 agents as excellent and every one of them are remarkable and we are very happy to work with them. Particularly with Plaza Forwarding Spain and ALLSTA Germany.
Innovo Myanmar started cooperation with us this year. They are very professional good partner in daily communication.
KMS Singapore is very good credit partner with us for a long time. Payment always settle on time.
Volantis Turkey and Aktis Greece are easy to deal with. Their communication and email response time is fantastic.
I have been particularly impressed by Fairplay Denmark for their quick clearance and going out of their way to organize transport for us and our friends when we visited their country.
Freight Facilitators Philippines - regular business and transactions.
Plaza Forwarding Spain - regular business with big account.
KMS Singapore - resourceful and super-fast with replies and feedback.
Platinum Ghana - very helpful.
McCallum Cargo Sri Lanka - swift with action and very friendly.
Vision Zimbabwe owed us a payment for a long because the crisis in their own country meant they were not able to make payments overseas but he did everything to pay us bit by bit and finally settled the full payment.
Dongbo South Korea are cooperative.
We are so proud of our 22-year old network and found this comment very heart-warming:

"I would like to appreciate the UFO Management as they have done a fantastic job during the pandemic period. It is good that we have done online meetings with the Members and it really helps us to get in touch with the network Members. I have also seen that you have created a WhatsApp group and it is really helping each other handling their shipments."

We will always be stronger together!