Member Interview: Macarena Wang of Jetwell Logistics, China (Qingdao)
5th July 2016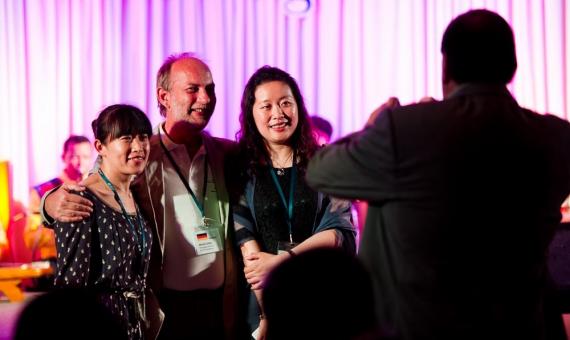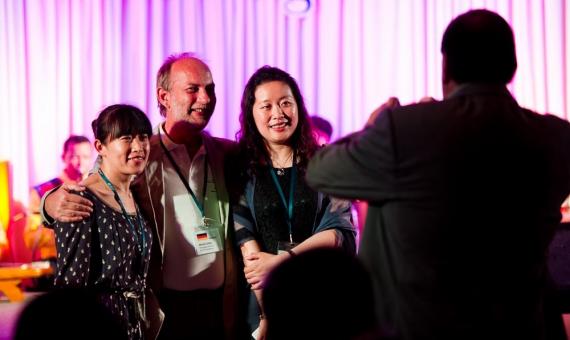 Jetwell Logistics were founded by a group of professionals in the freight forwarding and logistics industry and have been our reliable UFO member in Qingdao (China) for 10 years since 2006. This month, we will be interviewing Jetwell Group Operation Manager, Macarena Wang (photographed on the right at our 2013 Annual Meeting - (left to right) Hailey Wang (Jetwell Operator), Martin Zeller (ALLSTA - UFO Germany) and Macarena).
How did you first get into the freight industry?
I entered the freight industry in 2000, one year after I graduated from university. Qingdao is a port city and the freight industry is very promising; so I chose the freight industry as my career. With my college major being English, I was the girl to be hired with this skill as freight industry companies were needing and demanding this.
Please describe your most memorable shipment to date?
My most memorable shipment was where I once handled a project which involved cargo being flown from America to Italy. The trading and documents flow were among four parties - Qingdao, Japan, America and Italy; with a Qingdao trader being the maker of the trading. I helped the customer to complete this trade by means of my professional logistics knowledge. It was regarded as an impossible job from the customer's point of view. Even now, none of the four traders can understand how I managed to handle this 'impossible' project.
What motivates you most in your work?
At the beginning stage, the motivation came from helping a new (to me) industry. Now, I find helping a customer find the most suitable solution is very exciting. I also find one of the most enjoyable things is with the freight industry itself. I can see the world and experience different cultures, languages, religions and values. I am closely linked with the world every day, and the world is so vivid, colourful and diverse.
What is your most embarrassing professional moment?
Having worked at the company for six years, my main job was being responsible for Japanese trade, in accordance with our company's agreement. Almost every day I repeated the same tasks, and this lasted for six years. During this time was the most embarrassing for me. Sometimes I was on the brink of collapse and I often asked myself; 'is the freight industry really right for me?'. But at that time everything seemed small as I'd not yet seen our big and colourful world.
What are the current trends that you see in transportation as far as China is concerned? What is its untapped potential?
As far as I know, China's economy will be in sync with the world economy, more and more closely. At the same time, China's identity in the world is not only the factory of the world, but China is giving more and more big consumers to the world too. We can also see that the influence of the internet on the world's economy and culture etc. is growing rapidly. And the internet changes the world fiercely. So both opportunities and disaster potentially exist for small and medium-sized enterprises.
What do you enjoy to do in your spare time?
I like listening to music, reading books and shopping. But my most enjoyable times are spent with my lovely 4-year-old daughter.
Finally, where would you like to see your company in the next 3-5 years?
18 years ago, our target was to create a business model which cooperated with small and medium-sized enterprises across the world. At that time, it was impossible to imagine today's world. The internet brings drastic change in the world's economy, politics and culture. The interdependence among various countries becomes closer and closer. After a long time accumulating experience with effort, we believe: 'Jetwell is the one who has prepared'. With the aid of our past accumulation of intercultural understanding, with the aid of our professional logistics knowledge, and with the aid of internet development, innovation is our target in the next 3 to 5 years. We firmly believe the internet has not only changed the world, but will also change the freight industry. We are using advances in IT to redesign our operation systems and to work better with our customers. The computer in front of us is no longer just hardware but cloud nodes. For example, an African customer may not have finance for the cost of trip to us, but with the help of big data, we can still trade globally with them.