2007 Annual Meeting: Thailand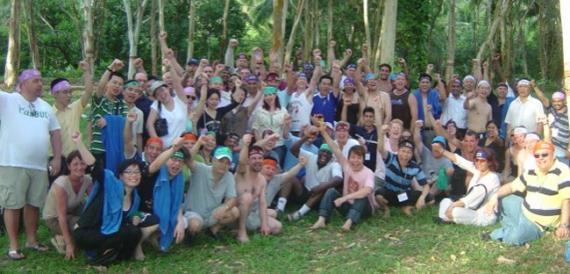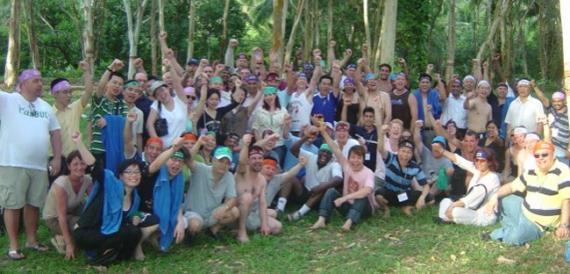 The 2007 Annual Network Meeting was held at the Laguna Beach Resort in Phuket from 23-25 April 2007. Over 100 Senior Managers from 65+ countries attended the event, which was a clear indication that the UFO network is growing from strength to strength.
The first day of the meeting began with an official update from the UFO Head Office and an insight into future plans. A Workshop Session then gave delegates an opportunity to perform a SWOT analysis on the UFO network. The analysis proved to be a powerful technique to help uncover opportunities that Members are well placed to take advantage of.
See our Team Building photos!
In the afternoon, delegates took part in a Team Building Session (pictured below), which was a great success! Delegates threw themselves into the tasks and their enthusiasm made it such a memorable event. The day ended with an evening of fun and trivia ... the annual UFO Quiz Night and Buffet!
The 2nd day was opened with an presentation on how to maximise internet exposure. We then moved on to 2 further workshop sessions Increasing Inter-Trade and Member Profiling. The aim of this project would be to uncover potential business opportunities and to proactively 'match' Members. The day was closed with a wonderful Sukhothai Banquet on the beach.
Our 3rd day began with a presentation on our Global Exchange Programme and the introduction of our UFO Environmental Policy. The meeting was closed with our Award Ceremony and Closing Speech from UFO Chairwoman, Rachel Humphrey.
Our Thailand Member, R R Logistics organised a fantastic Farewell Dinner for all delegates and their partners at the wonderful Phuket View' Restaurant, which we all enjoyed immensely.
The 3 days included our fundamental 1-2-1 Meeting Sessions, where delegates were able to discuss current business. These sessions enabled our delegates to meet new contacts, build business relationships, get to know, like and trust their fellow members with a view to gaining new business.