Introduction to our Meetings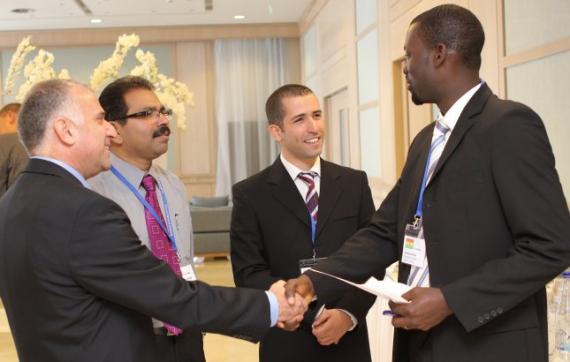 Today's technology makes it easier for our 400+ overseas offices to keep in touch using email, Skype, etc. At UFO we embrace technology and have developed our own Smartphone Service. However, it is a proven fact that meeting face to face is, and always will be, the key to business success.
Watch an online video of a previous meeting.
Our experience shows that delegates leave our meetings feeling motivated, stimulated and rewarded with a considerable increase in the volume of business with their UFO partners.
UFO is designed to be a catalyst for long standing relations between Members, which means repeat business. Trust is elemental to repeat business and our Biennial Meetings provide the opportunity for our member offices to get to know each other and build confidences.
New Members are always warmly welcomed at our meetings and quickly become part of our professional and friendly organisation.
"We thank everyone who made our first time at a UFO Meeting a pleasant and enjoyable one! It completely exceeded our expectations to find such a wonderful partnership and friendship between members. It was so much easier for us to become part of the UFO Family and share not only the serious times but the funniest ones." Caribbean International Cargo (Dominican Republic)
Most major world markets are represented at our Biennial Meetings. This provides an amazing opportunity for our privately owned Member companies, saving them substantial time away from the office as well as considerable travel expenses by being able to meet together in one place at the same time.
It is compulsory that all members attend our gatherings as the success of membership lies in meeting with their overseas partners in person in order to really discuss and secure business.
All registered delegates gain access to our online Meeting Manager program, developed especially for UFO so that 20-minute business meetings can be arranged prior to arrival. Each scheduled meeting is assigned a table number so that the changeover between each 1-2-1 session runs smoothly.
Each delegate has a personal log-in so that they can access their Agenda and book, cancel or make a period of time unavailable 24 hours a day, 7 days a week. Our delegates are completely in charge of their own schedule. A useful advanced function allows the user to view a list of all attending companies and whether or not they have an appointment booked with each of them. The sophisticated system is also designed to avoid double booking and automatically sends email notifications to both parties when a meeting has been booked or cancelled.
"Eastway Logistics may not have done business with every one of the UFO partner offices, but we have certainly had dealings with over 80%. Some offices we deal with more than others, which is natural, but the level of service and assistance received is uniformly excellent. It never ceases to amaze me where business comes from, and the AGM's always seem to create a surge of new interest. The effort Rachel puts into UFO is immeasurable, and this is evident in the high regard that all members have for Rachel and her team, and it shines through at every meeting. From my perspective, UFO is a very positive force to help drive my company forward in the next decade and beyond." Eastway Logistics (Ireland)