2019 Annual Meeting: Botswana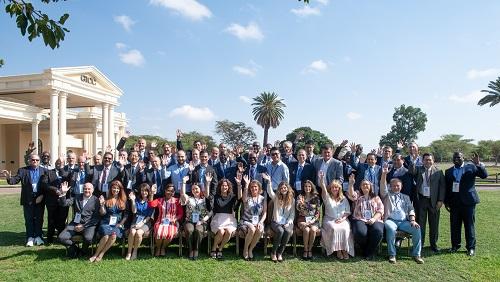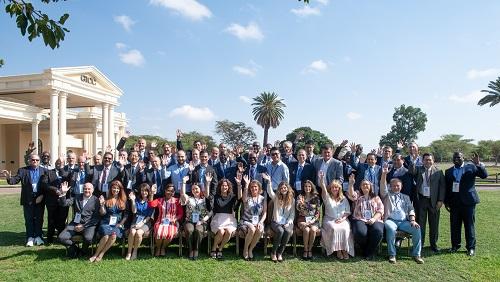 We held our exciting 18th Annual Network Meeting from 28-30 April 2019 at Gaborone International Convention Centre (GICC) at The Grand Palm Resort in Botswana.
See gala dinner, meeting room and excursion photos but more importantly a short video which really highlights the friendship and bonding of the UFO family at our gatherings.
We first gathered on the Sunday evening to enjoy a welcome drink before settling down for a delicious Gala Dinner and were entertained by a live band.
On Monday morning, the meeting was officially opened by UFO President, Rachel Humphrey who gave a recap on membership benefits, including the network's online training system, smartphone service and bespoke marketing tools. Rachel then introduced two Guest Speakers:
Mr Nachi Mendelow and Ms Este De La Hunt of CargoWise One described how their partnership with UFO opens a range of CargoWise One benefits and discounts to Members. Their presentation showed how the strength and flexibility of CargoWise One could enable UFO Members to move to the next level of operational productivity and customer service.
Mr Bobo Senosi, Director of Opportunities at Botswana Investment and Trade Centre explained that the country has the potential to lever its position in the region to serve as a gateway to the southern African market. Botswana is a member of the Southern African Development Community (SADC), a regional intergovernmental organization of fifteen African states. The SADC Trade Protocol provides each member state special treatment on import and export duties, some of which were introduced during Mr Senosi's presentation.
Delegates from over 45 countries then took part in pre-arranged private 20-minute business meetings. During these important sessions, delegates highlighted their specialist areas, discussed cross trade, existing and new business as well as information regarding their country's regulations and requirements.
After a busy day in the meeting room, delegates travelled by coach to Mokolodi Game Reserve where we were taken on safari jeeps for a game drive followed by a traditional Bush Braai consisting of marinated steak, chicken, boerewors, vegetable lasagne, fresh homemade garlic bread, roast butternut, coleslaw, salad, chakalaka, desserts around an open fire. An extra special treat was when Mafitlhakgosi Traditional Dancers arrived and gave a spectacular performance. The evening ended with a slow night drive back to the front gate and then return to the hotel via coach.
Our 2-day gathering ended with an exclusive finale dinner at The Boma… a wonderful outdoor setting adjacent to a picturesque lake where a feast was enjoyed by delegates,whilst seated around a blazing bonfire under the African sky.
UFO President, Rachel Humphrey said "Most network meetings are held in Asia or Europe. However, IATA reported that last year, Africa posted the strongest growth among all regions, up 24.8%, with Africa-Asia trade increasing by more than 64% following an increase in the number of direct flights between the continents and driven by ongoing foreign investment into Africa.""
Rachel added "Despite Africa's robust growth, there is still much untapped potential for exporters, importers and therefore freight forwarders. We wanted to provide the opportunity for UFO Members to understand and explore business in this rapidly expanding marketplace. Bringing our event to Africa gave our Members the chance to witness the continents true richness in culture, energy and resources."
The meeting also saw UFO contribute to the global fight to battle plastic pollution. Most similar events use 100s of single-use plastic water bottles over their duration, which can take between 400 and 1,000 years to decompose. From harming marine life to littering beaches and congesting landfills, the disturbing growth of plastics is threatening our world. To help battle plastic pollution, UFO provided delegates with BPA free reusable aluminium bottles and arranged for the hotel to supply pitchers of filtered water in the conference room. The gathering also raised US $1300 for Sentebale, a charity founded in 2006 by Prince Harry and Prince Seeiso, to support children and young people affected by HIV in southern Africa. Read more.
After the meeting, the Head Office team spent a few days at Chobe National Park and put together a short video of their adventure – watch here.